It's blocking. Or was, actually, since it's been dry for a few hours. I laid down the sleeves last Monday but only got to the body this Tuesday. Everything looks alright so far, although the fabric got alarmingly fuzzy-looking after getting wet.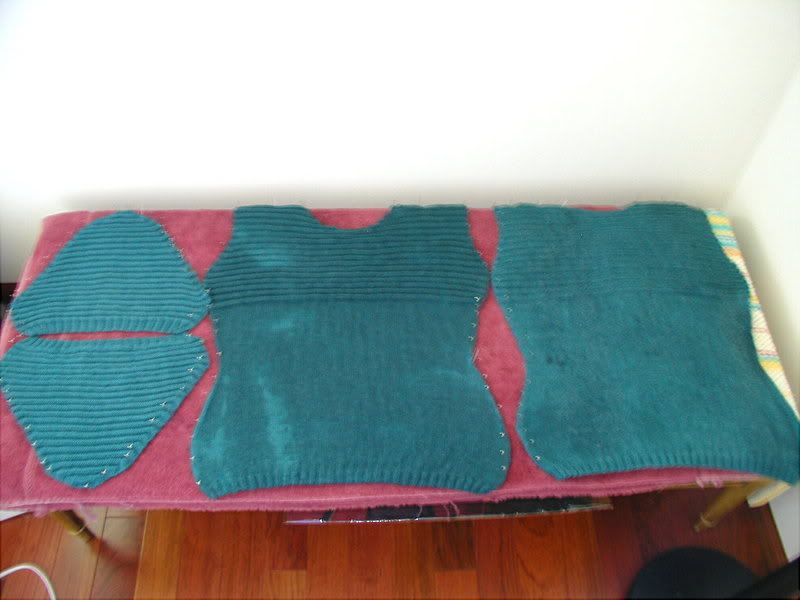 Next I have to sew one shoulder seam together and knit a neckline. One of my reference books suggests using a needle that's one or two sizes bigger than what was used on the rest of the garment, so I bought size 4 needles today. The picking-up-stitches part is a bit indimidating to me, actually. I'm really hoping that I don't mess it up.
I'm aiming to have it done by Wednesday, which is Knitting Night. A couple of members also have green FOs, so we've arranged to share them then. 'Can't wait!
This past week has been beyond busy--I didn't have time to knit at all! Hopefully I'll make up for it this weekend.
I decided to start Dad's Glitten's tonight--what a disaster! I knew learning to use DPNs would be challenging, but this seemed near impossible! The needles (the project calls for 4) kept moving out of position and twisting around. Just like when I was learning to use circulars, casting on a few times helped a lot. I still haven't got the hang of actually knitting with them, but I'm sure it's only a matter of practice. Seriously though, these things are so awkward!
One of the downsides to having non-knitting parents is their ignorance of things like UFOs or project boredom. I'm the kind of knitter who is more focused on the finished object, so it's a bit unnerving when my folks ask me why I haven't finished the VK pullover and why I'm looking to start a new project when I've got two already. They're so serious about it too, as if it's something akin to my schoolwork. They're probably just antsy because I haven't knit them anything yet!
Speaking of folks: this year's Thanksgiving was quiet and modest. 'Just us, a salad, and the turkey I got from work. And some good white wine, too. Desserts was similarily simple: I baked a pumpkin mirengue pie which we had with tea and more wine.