Ever since I learned how to knit in the fourth grade, I'd never gone beyond making rectangles (ie. scarves). I've only recently become interested--no, fascinated--with the world of knitting.


Having the desire to develop my skills was one thing, but getting there was going to take an initial push! So I hopped on the bus and rode downtown to buy a Dummies book on knitting. I knew the basics (knit, purl)...or so I thought. Somehow, the easy to follow instructions confused me; my knit stitches looked the same as the purls. Frustrated, I began making another long rectangle. A few months later, the curiosity returned with a vengeance, so I began searching for different instructions. Ironically, while considering which book to buy, I realized that
Lionbrand
and
Knitpicks
had instructions that I actually understood (
and
they were free!). So I obviously never did end up buying another book.
As I studied the aforementioned instructions, I had one of thone AHA! moments: I realized that I'd been knitting wrong for years. My purl stitch was actually my knit stitch, and vice versa. Re-learning them was pretty helpful, to say the least. I've currently learned the proper way to do simple decreases/increases.
Well, enough on that! My current WIP:
A "close-fitting crewneck pullover with set-in sleeves". This pattern is from a Spring/Summer 1989 edition of Vogue Magazine.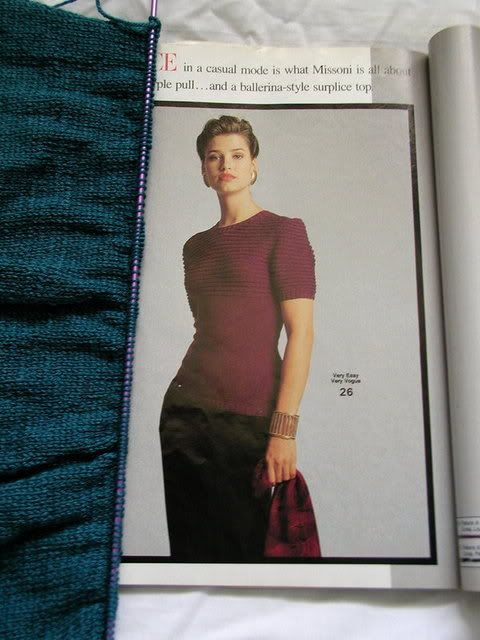 Progress after 2 weeks:
A close up:
And for the curious ones, the magazine cover!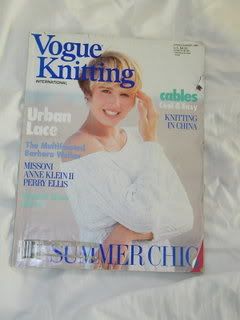 A better look at the decreases (I'm finished with these as of now; if you look at the pattern photo, I'm right where the model's waist is)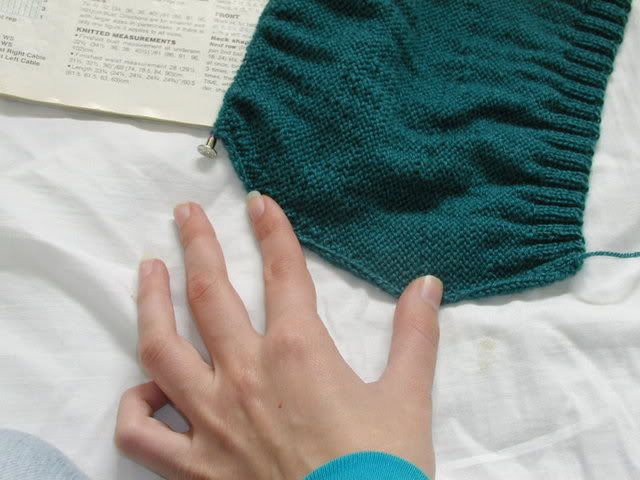 The yarn is Knit Picks Gloss in
Woodland Sage
(70% Merino Wool, 30% silk). This yarn smells absolutely heavenly and feels almost as good. The best I can describe it is as a high-end department store smell. Clean, yet perfumey. I ordered 7 hanks, and at $3.99 each, my first big project isn't going to make me poor(er). The sweater is knit mostly on size 3 needles (I don't blame you from shuddering in horror), which gets a lot more comfortable after a little while. The ribbing was knit on size 2's.
The yarn, alongside a member of my tiny stash (everything else are half-used skeins of Red Heart Acrylic that I'm not too keen on using anymore):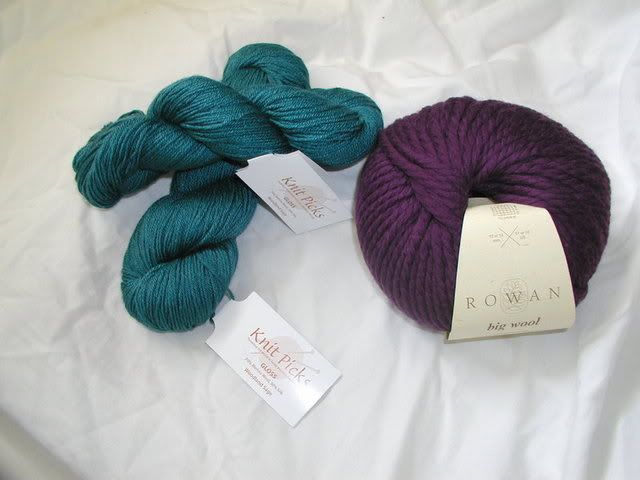 I've got a long, long way to go until I finish, given that I'm knitting with tiny needles and have to study for finals (and fend off the urge to 'just forget about it all' and hole up somewhere to knit).
I got a lot done last Sunday at work--as a receptionist, there's not much else for me to do on a slow day. A few customers saw me knitting at my desk and stopped by to chat! All said things along the lines of compliments and interests, and one elderly lady asked if she could just watch me for a while. These types of results of knitting in public are my favorite; what I don't like is when people treat me as an anomaly (which I may be, to them) and make a big fuss...and ask if I'm knitting them a pair of socks. Somehow, the response of "Hey buddy, you need more than two needles to knit a sock!" doesn't have any effect.