Want to know what else is a first? Updating more than once a month. Blogging to document my knitting as well as getting to know other knitters is my ultimate goal and I'm slowly learning what it takes to achieve that. Perhaps viewing laziness as a virtue is part of the problem...

But onto the aforementioned firsts!

After finishing my VK pullover (Ravelry link), I decided to knit my mom a hat, something I'd been promising to make her for a while. She had picked out the yarn (Rowan Super Chunky) and the pattern (Sideways Hat), as well. The result was so deliciously hilarious that I'm surprised that I forgot to blog about it. In the end, the hat wouldn't have fit my fist. For those familiar with Ravelry, this is my very first Ugh!


The construction is interesting enough--it's knit sideway and incorporates a lot of short tows--but my gauge must've been insanely off. I know I knit tightly, but this was ridiculous! Anyhow, I frogged it a few days after 'finishing' it. The yarn is lovely and I'll have to find a pattern that suits it.

Mom still wants a hat, of course, and had the nerve to request one made from the yarn I was using for another project. Incidentally, the other first!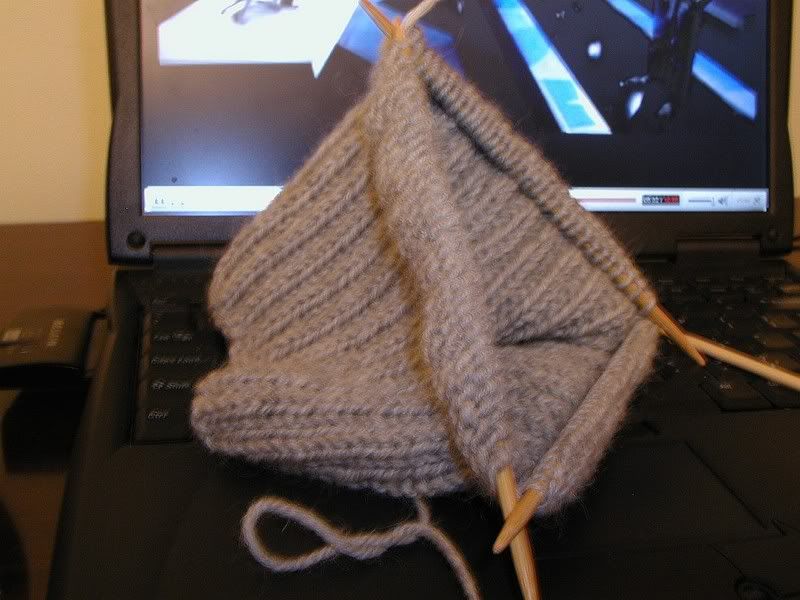 My first hat, ever! Heck, it's the first thing that I've knit in the round, with the exception of the collar for my VK pullover. Mom was lusting over the yarn and lucky for her, I have a whole skein left (I have no idea why I bought 2 when I only needed less than one.) The yarn was a dream to work with; incredibly soft and warm with just the right amount of fuzzing. The recipient was very pleased. Donnie is a sales guy at my work. He'd come by once in a while to watch me knit it and ask questions about what I was doing; really, that's the best part about knitting for someone. Even though I finished it last week I don't have photos yet.

A closeup of the inside of the fold-up brim: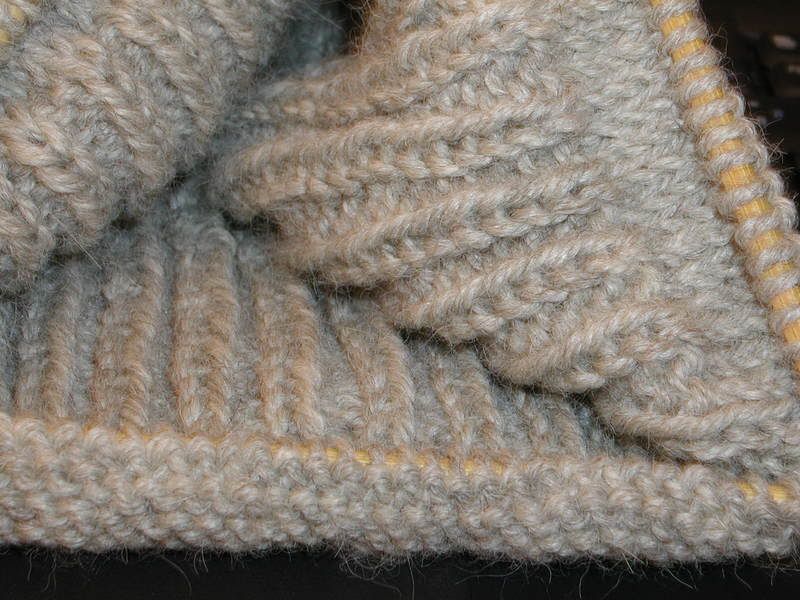 Currently, I'm only working on Paul's Block and Cable throw. I promised him that it would be ready by mid February and hopefully I can make that deadline. I've only got 4 pattern repeats to go and while that doesn't sound like much, my classes are borderline overwhelming so it's not a guarantee. Compared to the Berroco Ultra Alpaca I used for Donnie's' hat, the yarn I'm using for this afghan feels like cotton even though it's wool! Is this yarn love? Funny, I've never experienced that before and frankly I like it. I want to knit everything with Ultra Alpaca. Absolutely everything.